states elections
[ Imprimer ]


---
#196: Re: states elections Auteur: makkref,
Localisation: agadir
Posté le: 23 Aoû 2019, 13:46


—


What Do Rally
Playlists Say About
the Candidates?
Presidential campaigns have a sound. We
analyzed the playlists of 10 contenders to see
how the songs aligned with the messages.

https://www.nytimes.com/interactive/2019/08/19/us/politics/presidential-campaign-songs-playlists.html


https://www.nytimes.com/news-event/2020-election
---
#197: Re: states elections Auteur: makkref,
Localisation: agadir
Posté le: 11 Sep 2019, 11:55


—





Robert Frank (1924-2019)




...Twenty years later, Gene Thornton, writing in The New York Times, said the book ranked "with Alexis de Tocqueville's 'Democracy in America' and Henry James' 'The American Scene' as one of the definitive statements of what this country is about."

https://www.nytimes.com/2019/09/10/arts/robert-frank-dead-americans-photography.html

https://en.m.wikipedia.org/wiki/Robert_Frank

IN MEMORIAM
Robert Frank (1924–2019)
"We are deeply saddened to learn of the death of Robert Frank. He was unquestionably one of the most influential photographers of the 20th century. His poetic book The Americans, one of the most acclaimed photography publications of all time, looked at our country with the fresh eyes of an outsider to reveal both its ills and its beauty. The National Gallery of Art has had a long and rich history with Mr. Frank and was extremely honored that he selected the museum to be the repository of his work in 1990. With his support, the Gallery has the largest collection of his art."
—Kaywin Feldman, Director, National Gallery of Art
https://www.nga.gov/
---
#198: Re: states elections Auteur: makkref,
Localisation: agadir
Posté le: 13 Sep 2019, 21:57


—


Here are the 5 key takeaways from the ABC News Democratic debate

As Democrats descended into Republican territory for Thursday's debate in Houston, Texas, they made their pitches to voters with the hope of creating a battleground opportunity in 2020. Over the course of nearly three hours, the ten candidates exchanged blows over pivotal issues including health care, gun legislation, climate change, education and criminal justice.

https://abcnews.go.com/Politics/key-takeaways-abc-news-democratic-debate/story?id=65417517

https://youtu.be/2UWVO0Trd1c

We are in a battle for the soul of America.
https://joebiden.com/

http://www.businessinsider.fr/us/2020-democratic-presidential-primary-power-ranking-2019-4

https://mobile.twitter.com/ewarren?lang=fr
---
#199: Re: states elections Auteur: makkref,
Localisation: agadir
Posté le: 01 Oct 2019, 20:02


—





Four experts on the American presidency examine the three times impeachment has been invoked—against Andrew Johnson, Richard Nixon, and Bill Clinton—and explain what it means today.

Impeachment is a double-edged sword. Though it was designed to check tyrants, Thomas Jefferson also called impeachment "the most formidable weapon for the purpose of a dominant faction that was ever contrived." On the one hand, it nullifies the will of voters, the basic foundation of all representative democracies. On the other, its absence from the Constitution would leave the country vulnerable to despotic leadership. It is rarely used, and with good reason.

Only three times has a president's conduct led to such political disarray as to warrant his potential removal from office, transforming a political crisis into a constitutional one. None has yet succeeded. Andrew Johnson was impeached in 1868 for failing to kowtow to congressional leaders—and, in a large sense, for failing to be Abraham Lincoln—yet survived his Senate trial. Richard Nixon resigned in August 1974 after the House Judiciary Committee approved three articles of impeachment against him for lying, obstructing justice, and employing his executive power for personal and political gain. Bill Clinton had an affair with a White House intern, but in 1999 he faced trial in the Senate less for that prurient act than for lying under oath about it.

In the first book to consider these three presidents alone—and the one thing they have in common—Jeffrey A. Engel, Jon Meacham, Timothy Naftali, and Peter Baker explain that the basis and process of impeachment is more political than legal. The Constitution states that the president "shall be removed from Office on Impeachment for, and Conviction of, Treason, Bribery, or other high Crimes and Misdemeanors," leaving room for historical precedent and the temperament of the time to weigh heavily on each case. This book reveals the complicated motives behind each impeachment—never entirely limited to the question of a president's guilt—and the risks to all sides. Each case depended on factors beyond the president's behavior: his relationship with Congress, the polarization of the moment, and the power and resilience of the office itself. This is a realist view of impeachment that looks to history for clues about its potential use in the future.


https://www.nytimes.com/2019/10/01/podcasts/the-daily/impeachment-republicans-trump-nixon-clinton.html

The Floodgates Open on Trump
https://www.newyorker.com/news/daily-comment/the-floodgates-open-on-trump
---
#200: Re: states elections Auteur: makkref,
Localisation: agadir
Posté le: 09 Oct 2019, 12:25


—


US presidential candidate Elizabeth Warren overtook former Vice President Joe Biden for the first time in the polls for the Democratic primary, after a summer marked by the rise of this progressive senator.

Largely ahead in April, 76-year-old Joe Biden saw his curve drop in polls to meet Elizabeth Warren, 70, in the polls averaged by RealClearPolitics:

https://www.realclearpolitics.com/

The Senator now records 26.6% of the voting intentions for the Democratic primary against 26.4% for the centrist candidate.

After a summer already shaken by blunders that have raised doubts about his form, the shadows accumulate for the former vice president of Barack Obama.

His name is mixed with the Ukrainian case, which is worthy of Republican President Donald Trump to be targeted by impeachment proceedings. And he has just released donations received in the third quarter well below his rival: 15.2 million for Joe Biden against 24.6 million for Elizabeth Warren.

The third in the polls, Bernie Sanders (14.6%), posted a record of donations over the period (25.3 million).

At 78, the independent senator recently suffered a heart attack. On Tuesday, when he left a meeting with the cardiologist, he said he wanted to "change the nature of the campaign, make sure I have the strength to do what I have to do".

For the Socialist, this means "probably not to do four meetings a day" but rather "two".

A good new potential for Elizabeth Warren who stands like him on the left wing of the Democratic primary.

The top twelve contestants will compete on October 15 in a fourth televised debate in Ohio.

The Democratic Party announced Tuesday that the fifth will be held on November 20 in the state of Georgia.
---
#201: Re: states elections Auteur: makkref,
Localisation: agadir
Posté le: 11 Oct 2019, 22:46


—


Debate predictions
https://youtu.be/OQRiMH9uXE4

Tommy president, with Steve Harvey
https://youtu.be/nCSx2BWGBNM

"Corporations and special interests have bought politicians and influenced Washington for too long."
─ Tom Steyer
https://www.tomsteyer.com/
---
#202: Re: states elections Auteur: makkref,
Localisation: agadir
Posté le: 14 Oct 2019, 10:24


—


The American Presidency
https://americanhistory.si.edu/presidency/home.html




https://en.m.wikipedia.org/wiki/Democratic_Party_(United_States)




https://en.m.wikipedia.org/wiki/Republican_Party_(United_States)

https://www.afp.com/en/
---
#203: Re: states elections Auteur: makkref,
Localisation: agadir
Posté le: 05 Nov 2019, 13:58


—


https://youtu.be/54o94shuMIM

Democratic Presidential Nomination
Biden 29.1Warren 20.6Sanders 16.6Biden +8.5


https://youtu.be/AOLqjgaoXkQ


https://youtu.be/IzkZQb7FUaU


https://youtu.be/5kpWkjlR3OQ


https://www.realclearpolitics.com/

...The 2020 elections were already difficult to project, considering the closeness of the 2016 presidential election and narrow Republican majority in the Senate, but impeachment has thrown a new wrinkle into the cycle. Impeachment is a wild card: If independent voters believe Trump's argument that it's an abuse of congressional power driven by petty politics, it could drive up his vote in a way that a campaign with unprecedented financial resources might not...
https://www.rollcall.com/news/congress/a-year-out-heres-four-ways-2020-elections-could-go
---
#204: Re: states elections Auteur: makkref,
Localisation: agadir
Posté le: 10 Nov 2019, 10:40


—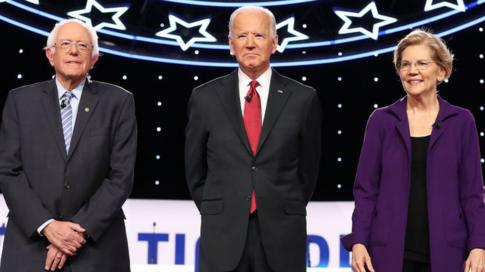 Michael Bloomberg, former New York City mayor, has filed to run in Alabama's presidential primary. He hasn't said yet if he'll run for president...
https://youtu.be/lRdtL2O7-5M

Who is Bloomberg?
Mr Bloomberg was a Wall Street banker before going on to create the financial publishing empire that bears his name.

His net worth is $52bn (£40bn), according to Forbes. This is 17 times more than Mr Trump's (estimated at $3.1bn).

https://en.m.wikipedia.org/wiki/Michael_Bloomberg

https://www.bbc.com/news/amp/world-us-canada-50355758

"When you invest in women, they invest back into their families and communities and countries flourish," Ivanka Trump said.

She is visiting Morocco to promote the Women's Global Development and Prosperity initiative, a U.S. government program she spearheads that has a goal of helping 50 million women in developing countries advance economically in coming years.

https://www.voanews.com/middle-east/moroccos-female-landowners-give-ivanka-trump-warm-welcome


Despite low national approval ratings and the specter of impeachment, President Trump remains highly competitive in the battleground states likeliest to decide his re-election, according to a set of new surveys from The New York Times Upshot and Siena College...
https://www.nytimes.com/2019/11/04/upshot/trump-biden-warren-polls.html